The march of the methane-mongers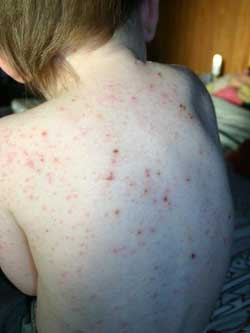 As the gas leaks and bubbles, and the contaminants creep into the falling water sources and the salt accumulates, as people itch at strange rashes, hold their heads with strange aches, or their stomachs with strange nausea attacks, and worry if they are drinking cancer-causing chemicals from the fracturing process or breathing them in from the gas flares — the coal seam gas (CSG)industry continues toadvance across Australia. Gasland is here. This is Angus Bretherick, 6, with the rash his family say was caused by their local coal seam gas industry. Angus lives at Tara, hotspot of the Queensland methane push, and where residents had been complaining since 2008 about leaking gas wells and the dumping of CSG water on roads. (Photo: Courier-Mail 21.10.2010)
The Gasland film showed impacts of the coal seam gas and shale gas industry in the U.S. It put 'fracking' into all our vocabularies.
We have CSG rapidly spreading now; they are investigating shale gas, which always needs fracking, in three states. They want it all, in whatever strata the methane is hiding – for export, and 'they' are mainly foreign companies.
40,000 wells like these at a Chinchilla (Queensland) gas field have been approved in that state; the net of wells and linking roads and pipelines over the Darling Downs is more dense and more extensive now, a year later.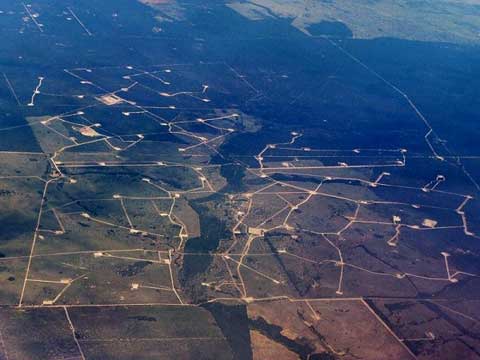 They can do this on your property; can you then imagine, as they claim, that CSG and farming can co-exist?
In New South Wales, nearly half the state is under petroleum exploration licences, which is what covers coal seam gas. They are test drilling in inner Sydney, in Sydney's water catchment and all over the Hunter, Gunnedah and Northern Rivers regions, to name a few.
Northern New South Wales communities are the latest to erupt into protest, with 3000 at a rally in Murwillumbah recently. How the CSG industry ever thought they could get away with this ill-informed and heedless destruction in such an environmentally-aware (Nimbin, Byron!) region, I can't imagine!
Watch this video to see why.
You cannot stop this gas rush once you have let them in to test and prove the gas reserves. But you can refuse right at the start, lock the gate, put up a sign and say 'NO' as thousands are now doing, one way or another, with the Lock the Gate national alliance of over 90 groups, and hundreds of individuals, from all walks of life. I am one.