The Great Barrier Reef Blog – News From The Barrier Reef
---
It seems we've got under their skin…
Yesterday, GetUp helped lodge urgent legal action to stop Environment Minister Greg Hunt unlawfully assessing plans to dredge and dump near Abbot Point. The money came from the incredible Reef Fighting Fund 17,500 GetUp members launched early last year.
Unfortunately for the Minister, he didn't take the news so well.
Only hours after the news of our legal action broke, Minster Hunt released a scathing press release and Facebook post, accusing GetUp of "ignoring the truth" and demanding we "explain" a few things.
Minister Hunt's attack was so far off the mark in so many ways, that we put together a comprehensive, line-by-line rebuttal of his gripes.
Here's a snapshot: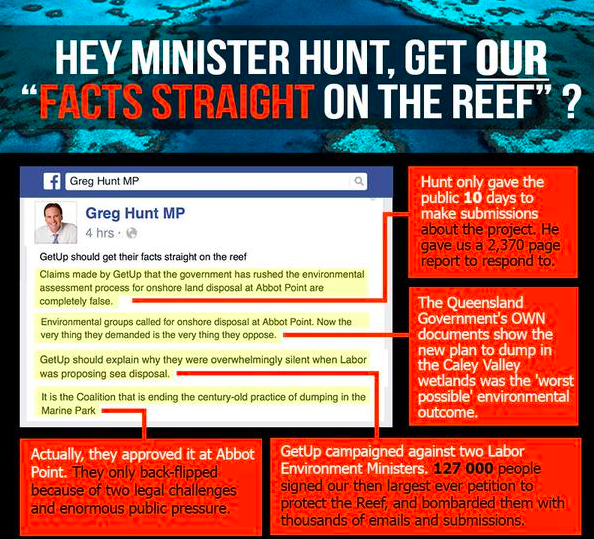 Click here if you can't see the image, or to read the full rebuttal.
As you can see, Minister Hunt riddled his accusations with inaccuracies and misleading statements.
But unfortunately, this didn't stop some media outlets from publishing his comments. We did our best to set him straight, but there will still be many people who have only read Minister Hunt's misguided comments.
Moments like this show just how far we've come.
Politicians and coal miners don't lash out like this for just anyone. They know exactly what you can do, and they're scared by it. This time last year, we launched two historic legal cases against Abbot Point. Together, we shook the mining industry to its core.
Our movement followed the Reef Fighting Fund with an incredible year of action, so much so that the Government abandoned its plans to dump dredge-spoil at sea and found an alternative.
Unfortunately, the new plans are terrible. The Queensland Government's own report shows it is the worst possible environmental solution at Abbot Point. (And incidentally, the cheapest).
That's why we're gearing up again. This is the business end of the fight. If there are cases to be fought with good prospects and sound legal grounds, we'll be there, just like last time. Be ready.
In the meantime, let's start with sharing the truth.
Can you help set the record straight by sharing our rebuttal with your friends and family?
Click here to share our response to Minister Hunt on Twitter
Click here to share our response to Minister Hunt on Facebook