Here you will find images that may shock or motivate!
Gas wells in the Northern Rivers – Google maps
Click on the Link to see the full map as far south as Grafton.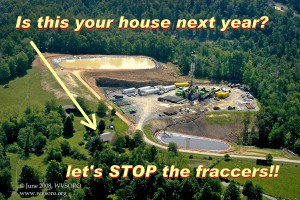 Click the thumbnail to view/print/download the full size version 1200 x 1600 pixels
The full size version of this one is 2000 x 3000 pixels. Just click the image to access the full size file.
The next image is a large scale map by Arrow Energy locating its' 15 wells in the PEL 445 tenement.  In the Documents section in the pull down menu under Resources tab, you will find links to 2 of Arrow Energy's Adobe pdf documents with more detailed maps of the 8 of these wells closest to the Tweed.
Take time to read these documents and you will find out a little about the process of exploration drilling.  Keep in mind this is NOT fraccing, the process of breaking the coal seam, and NOT extraction, the process of pumping out the ground water with subsequent collection of methane and RELEASE to the atmosphere of the condensates.  That comes later.
Following is a rough map of the local geology.  The Clarence Moreton deposit extends from Central Queensland nearly to Woolgoolga.  You will see that the Tweed Lismore Kyogle Byron and Ballina Shires lie on its eastern edge.