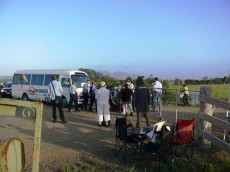 Today, 28 october 2014.
More arrests as Gloucester coal seam gas protests continue
Two men have been arrested and several others fined this morning as protestors peacefully continued a blockade of AGL's controversial fracking project at Gloucester.
Protestors passively resisted, standing and lying in the path of a fracking convoy at the entrance to the site.
Local resident, Karen O'Brien, was at the protest this morning and said, "The only way AGL's fracking convoy can access this site now is under heavy police guard: this project has no social licence."
"This fracking so close to people's homes should not have been approved. The government's failure to stop the project while troubling questions about the risks and safety remain unresolved is driving people to have to peacefully resist to protect the valley and its people.
"We are committed to continue peaceful blockading this operation for as long as the government continues ignoring and neglecting Gloucester resident's health and wellbeing."
"The community of Gloucester remains absolutely committed to peace and non-violence in all protest activities. We encourage all people and parties involved to act calmly and responsibly"